Top Nouméa holiday packages
5.0-star property
Le Méridien Noumea Resort & Spa
4.2/5
Very Good! (731 reviews)
15 Mar. - 22 Mar.
7 night stay
Sydney (SYD) to Noumea (NOU)
Aircalin • Return • Coach
Price was AU$1,653, price is now AU$1,653 per person
Loved this resort. Stayed 8 nights, most relaxing holiday we have had.
Reviewed on 3 Feb. 2020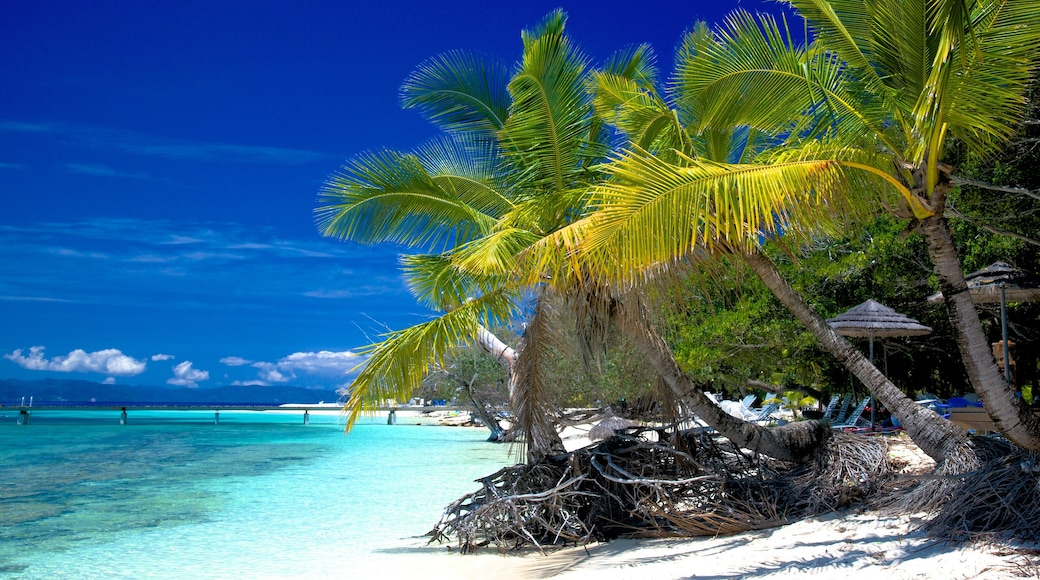 Noumea Holiday Packages
Which long, finger-shaped island is sandwiched between Australia and Fiji? You guessed it! New Caledonia is a special French collectivity in the Coral Sea.
The capital is Noumea, and that's where you will be heading for your next getaway. From its role as a major base for the U.S. Navy during World War II to its emergence as a major tourist destination, this place is a must-do for anyone who loves relaxing in the tropics. Your Noumea holiday will be heaps of fun—what are you waiting for?
Things to Do in Noumea
Noumea holidays begin when your feet touch down on New Caledonian soil. Steer yourself to the Jean-Marie Tjibaou Cultural Centre, which celebrates the native Kanak culture. The architect, Renzo Piano, blended traditional Kanak building resources with modern architecture to create a conical-shaped Kanak Great House, as well as several pavilions called "cases". After admiring France's restitution present, hop on a boat for a short 24 km ride to Amedee Lighthouse on Amedee Island. Stretch out on the beach for a relaxing day, or take a short walk around the entire island. Then climb the spiral staircase to the top of the light for panoramic views of everything. Squint and tilt your head a tad if it's clear enough, you may spot Australia. On your way back to Noumea, drop a troll line in the water and see if you can hook a dogtooth tuna the size of a Fiat. Our Noumea holiday packages only come with flights and hotels, but ask around for specials on fishing charters. If on-the-water adventures aren't your thing, Wotif's Noumea car hire options can give you access to the surrounding hills and towns.
Shopping, Dining & Nightlife
While this town is small, there are still plenty of things to buy if you're a shopaholic. Some of the area's shopping malls, like the Kenu-In Shopping Mall Baie Des Citrons Complex, carry name brands in their stores, so you won't feel far from home. For a little more traditional experience, scope out the Noumea Morning Market.
Is your stomach growling yet? Good. The city is loaded with fresh seafood restaurants and, given its past with France, world-class French establishments. Try to set yourself as a guest at a Bougna. What's a Bougna? It's a traditional feast of rice, seafood of all types, taro and banana, wrapped in banana leaves and buried with hot rocks. Once cooked, the meal is dug up and eaten, to the delight of everyone involved.
If you want to whip it up at night in town, head to the Latin Quarter. The bars there are filled with locals and tourists alike, dancing to every music genre invented and swigging Manta Saveur Citron—the local pale lager. If you're feeling lucky, check out the two casinos sitting in the sand. Unfortunately, Noumea deals don't come with casino credits.
What's Next?
See what the French were up to in the South Pacific all those centuries ago. Wotif's Noumea packages and New Caledonia holiday packages will open your eyes to this island nation.
Things to do in Noumea
Had enough of looking through other people's envy-inducing holiday snaps? Want to start having your own experiences? Come on then! There's no time like the present!
Whether you're a regular traveller to Noumea or it's your first time, there'll be no shortage of things to see and do. Here are some of our favourite experiences:
Top Nouméa hotels
Lowest nightly price found within the past 24 hours based on a 1 night stay for 2 adults. Prices and availability subject to change. Additional terms may apply.