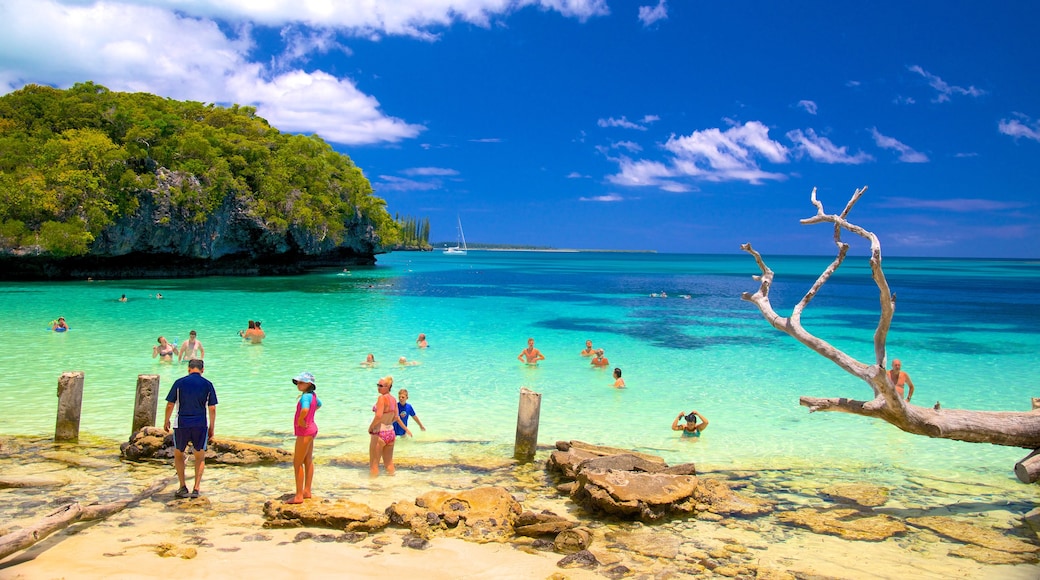 Isle of Pines Holiday Packages
Looking to get away from it all? Well, it doesn't get much more remote than this tiny island off the coast of a slightly larger island in the South Pacific. Isle Of Pines is the southeastern-most island in the New Caledonia archipelago, and "the closest island to paradise", per its nickname. The fact that it's surrounded by the New Caledonia Barrier Reef makes it even cooler.
Isle of Pines got its name because it was one of the only islands for miles with tall thick trees for replacing ships' masts, so don't forget to look up when strolling through the jungle. These days, though, it's not all about the trees. It's about the beaches (duh), the diving and spectacular sunsets.
And it's all yours with our Isle Of Pines holiday packages. Twist your arm, right?
Stuff to Do
Since the entire island is surrounded by reefs, play spin-the-bottle to decide where to snorkel or scuba dive. Our favourite is Upi Bay, because it's almost completely protected by land and even has a few mini islands you can beach yourself on.
Ever been to a hotel and thought the pool could be better? Then check out Piscine Naturelle, or Natural Pool, with our Isle Of Pines packages. It's a great place for the kiddos to swim and snorkel. Plus it's secluded, so if you need to don some floaties and practice your own dog paddle, we won't tell.
If a good old-fashioned pirate treasure hunt is what gets your blood flowing, grab one of our Isle Of Pines car hire options and set course for Grotte de Hortense. Tour the caves or explore on your own. Who knows? Maybe you'll come across a hidden gold doubloon stash.
Nightlife
Let's be real. No one goes on Isle Of Pines holidays to dance the night away in a club or throw a raging party. Nights here are way more laid-back. Start with watching a beautiful sunset on Corbeille Bay or better yet, a sunset dinner cruise. If the moon is out, grab a bottle of bubbly and your special someone and spread a blanket out on Kutema Beach. If not, do a little stargazing there instead.
If you are looking to party in New Caledonia, check out our Noumea holidays. There are plenty of pubs to throw back a tinny of Number One, the local beer.
Where to Visit
On holidays to Isle Of Pines you can check out three island villages. Kuto has some of the best beaches on the island, with sand as white and soft as flour. If you're travelling on a Wednesday or Saturday, Vao has a great open air market where you can buy local produce and crafts. Gadii is more remote at the northern end of the island, but it's a great place to see a family of even tinier islands and Crabes Bay.
Can't wait to get away? Us either! That's why we searched far and wide for all the best Isle of Pines package deals and hidden them right here in the Wotif grotto. And the best part? They won't cost you a whole wallet full of gold doubloons. Get yours today before someone with an eye patch and a peg leg carries them off!
Top L'Île-des-Pins hotels
Le Méridien Ile des Pins
Baie d'Oro, BP 175, L'Île-des-Pins
The price is AU$420 per night
Le Méridien Ile des Pins: Luxury hotel with free WiFi and free parking. Located near the bay.
Don't see what you're looking for?
See all available properties in L'Île-des-Pins
View all properties
Lowest nightly price found within the past 24 hours based on a 1 night stay for 2 adults. Prices and availability subject to change. Additional terms may apply.