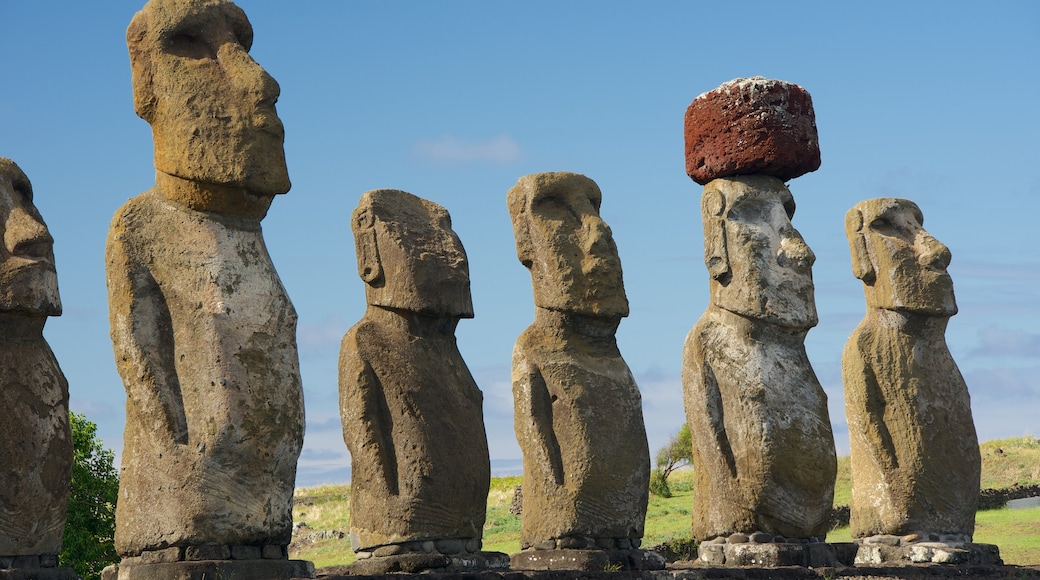 Holidays To Easter Island
If you want to get away, you can't get much further from civilisation than Easter Island, a tiny speck of land bobbing in the massive Pacific Ocean. 
Though Easter Island is about as far off the beaten path as you can go, its allure is undeniable. It is home to those famous giant stone heads, known as Moai, built by the Polynesian ancestors of the island's native population, the Rapa Nui. The heads are cool, but your Easter Island holiday will also give you a front row seat to this extraordinary open-air museum of ocean, volcanos and ancient monuments.
Things to Do in Easter Island
Easter Island packages start with your plane landing at Hanga Roa Airport (IPC). Easter Island is small. No, really, the whole island has a single town—Hanga Roa. Keep that in mind before you go out trekking, because Hanga Roa is just about your only link to food, supplies and people. Taxis are plentiful and cheap, but if you want more autonomy, one of Wotif's Easter Island car hire options is the way to go. Just be sure to take it slow at night, as you'll be sharing the road with free-roaming horses and cows.
Hmmm, what to do on Easter Island holidays? Go meet those stone heads face to giant face, of course! The Moai keep watch all over the island, so you won't have much trouble finding them. Rano Raaku is the best place to start your Moai hunt. This massive quarry site is where most of the Moais were created. To get the inside scoop on these silent watchers, consider hiring a native guide or joining a tour group.
The Moai are majorly cool, but you can only lose so many staring contests before it's time to find a different profession. How about scuba diver, body surfer or sunbather extraordinaire? You can get in some serious island relaxation at two great beaches, Anakena and Ovahe.
When your stomach starts grumbling, make your way back to Hanga Roa. Chow time!
Shopping, Dining and Nightlife
Nope, you can't grab the latest Prada handbag in the small village of Hanga Roa. You can, however pick up some authentic crafts that will give you a great story to tell at your next dinner party. Most of the shops are located along the village's main street.
Hanga Roa is also your dining destination. Food is expensive to import, so you'll notice pricey menu items and a lot of fresh seafood. Try the curanto and ahi tuna—you won't be disappointed. Octopus and lobster are also good bets for a satisfying meal.
Finally, end the night throwing back a pisco, a popular Chilean drink made from fermented grapes, while enjoying a traditional Polynesian dance show. If your hips aren't swaying with the beat, then you need to order another round of piscos!
What's Next?
Though Easter Island is not known as a low-cost destination, it's possible to find great Easter Island holiday packages. Start by snapping up awesome Easter Island deals on Wotif. Through us, you'll find great savings on hotels, flights and car hire options. The Moai won't show it—they're the strong and silent type—but you can bet they'll be impressed with your deal making.
Top Easter Island hotels
Don't see what you're looking for?
See all available properties in Easter Island
View all properties
Lowest nightly price found within the past 24 hours based on a 1 night stay for 2 adults. Prices and availability subject to change. Additional terms may apply.