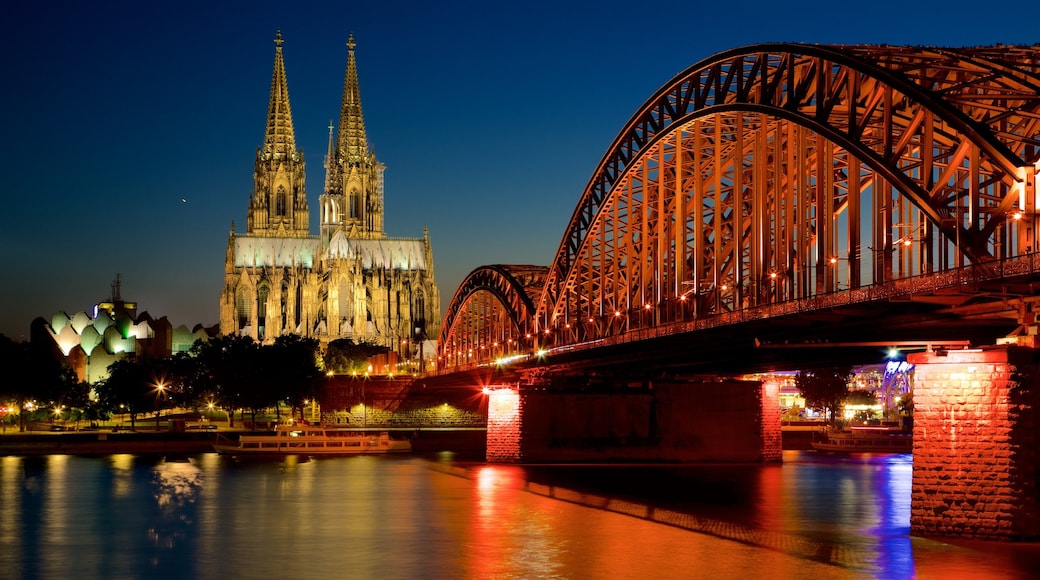 Book your Cologne holiday
Cologne Holiday Packages
Architectural wonders and light-hearted fun abound in Cologne, Germany, where revellers enjoy the city's signature Kolsch beer during springtime Carnival or just about any other time of year. Sitting on the banks of the Rhine River, this city with a million residents offers much more than beer-filled festivities. Museums, sporting events and music venues provide tourists who book Cologne packages with tons of opportunities for cultural exploits and amusements.
Things to Do in Cologne
Visitors to Cologne quite literally can't miss its centrepiece. The High Gothic Cathedral of Saints Peter and Mary has twin 157-metre spires and is one of the largest cathedrals in Europe. Constructed in 1248, it houses ancient keepsakes and offers visitors impressive views of Cologne's old city.
If the weather has you saying "Baby, it's Kolsch outside," head indoors to one of Cologne's museums. The Ludwig Museum and Wallraf-Richartz Museum house works by European masters like Rembrandt and Renoir along with more modern artists like Picasso and Warhol. If it's sunny skies above, travel back in time in Old Town, where you'll find traditional homes, monuments and churches as well as Old Town Hall, the oldest public building in Germany.
Want to get active? Take the cable car across the river to the Cologne Zoological Gardens at Rhine Park. Any protests will be "irrelephant" once you see the gorgeous Moorish-style elephant house. For great views of the city—and if the weather is right, Dusseldorf—go to the 100-m KolnTriangle Panorama. And if the spirit strikes, use one of Wotif's car hire options in Cologne to reach the charming town of Bruhl, 15 kilometres away. There, you'll find museums, palaces and Phantasialand, one of Europe's largest theme parks.
Shopping, Dining &amp Nightlife
Cologne holidays draw shoppers for high-end designers, mass market retailers and unique wares by local artisans. With its massive department stores, you won't be "Cologne-ly" in Schildergasse, the most popular destination. Find small shops that offer more eclectic goods in Ehrenfeld. And if you're there in December, the nine Christmas Markets are the place to be. Artists create holiday masterpieces before your eyes as the smell of mulled cider fills the streets.
With more than 3,000 pubs and restaurants, something is sure to tempt you in Cologne. Visit a traditional brewhouse for beer and delicacies like hammche (boiled pork knuckle), Kolsche kaviar (black pudding with onions) and halver hahn (rye bread with gouda, mustard and onions).
In German, the word Feierabend translates to "celebratory evening," and people in Cologne take it quite seriously. Pursue hoppy-ness and make friends with strangers at the traditional beer halls in Old Town. The "Kobes" (bartenders) will keep filling your glass until you cover it with a beer pad, so get ready for a night to remember—or forget.
What's Next?
Whether you're bringing the family or taking a romantic getaway or group excursion, you'll find the best airfare and accommodation combos with Wotif's Cologne holiday packages. And when you're done enjoying Kolsch life on the banks of the Rhine, add one of our Berlin package deals and head 550 kilometres west to finish your holiday adventure in "The Millennium City".
Top Cologne hotels
Lowest nightly price found within the past 24 hours based on a 1 night stay for 2 adults. Prices and availability subject to change. Additional terms may apply.