I love Australia. Like, I am really in love with Australia. I'm not normally one for overt displays of patriotism but how good is this country?! It has unique and stunning landscapes, over 60,000 years of First Nations history and culture, and you very, very rarely have to worry about frostbite. It's also got the best produce and it has some of the most incredible landmarks in the world. In fact, I love Australia so much I'm going to share with you some of my hot tips on where to go to see places that will truly demonstrate the beauty of this absolute ripper of a land – and each of them is within four hours' drive of a capital city. Enjoy!
1. 90 minutes from Darwin, NT: Kakadu National Park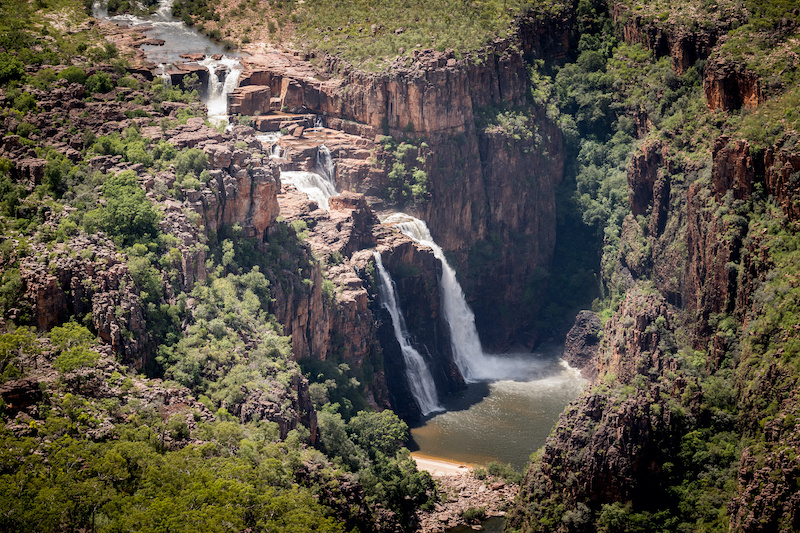 Let's dive straight into it with the wonder that is Kakadu National Park. This is the largest terrestrial national park in Australia – it covers a whopping 20,000 square kilometres – and as a result, you'll probably need at least three days to explore this natural beauty. It's best to stay a night or two in the park, if you can – while the park itself is only 90 minutes from Darwin, most of the sites are another 90-minute drive further in. Tour the waterways, wallow in the iconic Gunlom Plunge pool and swim in cascading waterfalls (only in spots recommended by the locals of course – you'll be looking specifically for croc-free zones!)
Don't miss the chance to stop at Ubirr, Burrunguy (Nourlangie Rock) and Nanguluwur – these spots are internationally recognised as outstanding examples of Aboriginal rock art, with some of the paintings dating back 20,000 years. The custodians of this stunning land are the Bininj peoples in the north and Mungguy peoples in the south, and both maintain a deep spiritual connection to this incredible patch of earth.
2. Three-and-a-half hours from Hobart, TAS: larapuna/Bay of Fires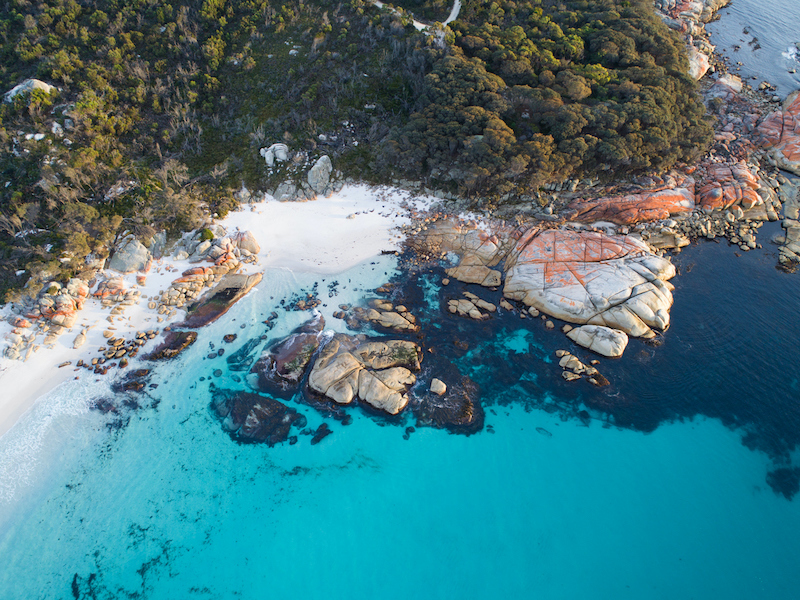 larapuna, also known as the Bay of Fires, sits on the land of the palawa people and is famous for its pristine stretches of white sandy beaches as well as its unique and iconic lichen-covered granite boulders that are strikingly bright orange. It's said that this spot on the north east coast of Tasmania, just three and a half hour's drive from Hobart, was given the name Bay of Fires in 1773 when Captain Tobias Furneaux saw the fires of the palawa nation on the beaches.
The array of native birdlife makes it a bird-watchers dream and the rich marine biodiversity means it's also the perfect spot to snorkel and dive. The First Nations-owned and operated wukalina walk is a great way to immerse yourself in thousands of years of history and deep knowledge of the area.
Fun fact: palawa kani (the language of the palawa people) doesn't use any capital letters!
3. 90 minutes from Sydney, NSW: Bouddi National Park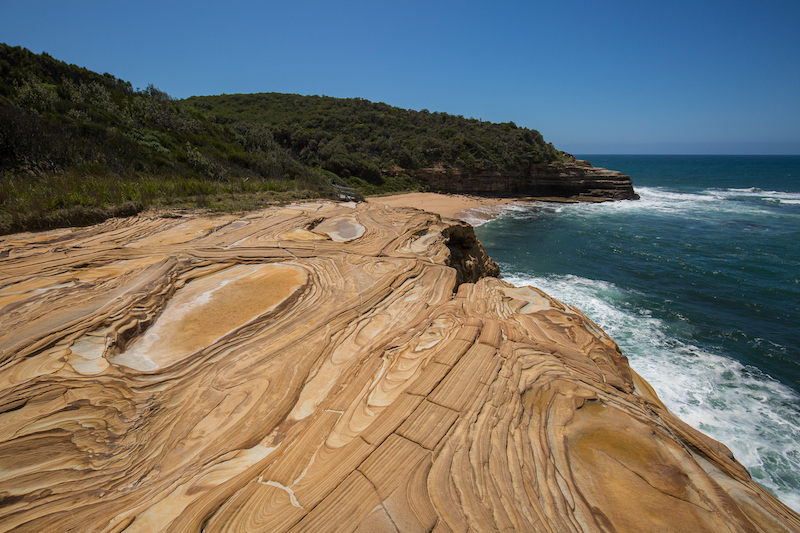 The NSW coastline is truly special… even more so when you're exploring it with the knowledge and storytelling of a First Nations guide. The Bouddi National Park, an hour-and-a-half north of the Sydney CBD, has some truly breathtaking coastal scenery (the coastal track is a must-do!), as well as some fascinating cultural sites (over 100, in fact) to explore, too. Knowledgeable Girri Girra guides can lead you to some of these spots, sharing ancient stories and insights as you go.
4. Three hours from Brisbane, QLD: Boobarran Ngummin/Bunya Mountains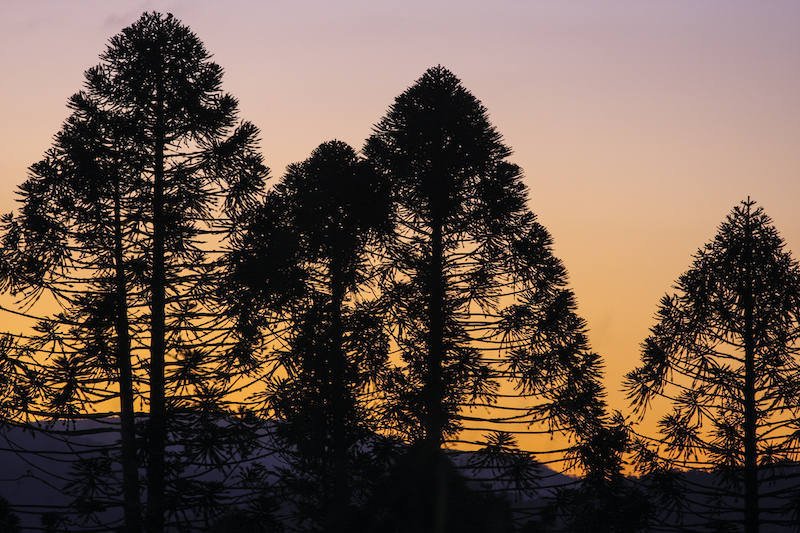 Boobarran Ngummin boasts boutique cafes, wintery cottages, and beautiful scenery – all just three hour's drive from Brissie! The amazing walking trails run through some of the oldest rainforests in the world and are home to bunya and hoop pine trees that reach high into the sky. Formed around 30 million years ago, it's now the remains of an old shield volcano, as well as home to red-necked wallabies, great barred frogs and Australian lorikeets.
The Wakka Wakka, Jarowair and Barrumgum peoples are the traditional owners of the Bunya Mountains. Every three to four years, when the Bunya trees (Araucaria bidwillii) bear fruit, thousands of people from surrounding nations in Queensland and New South Wales come to Boobarran Ngummin for feasts and spiritual ceremonies.
5. Three-and-a-half hours from Canberra, ACT: Gulaga/Mount Dromedary (NSW)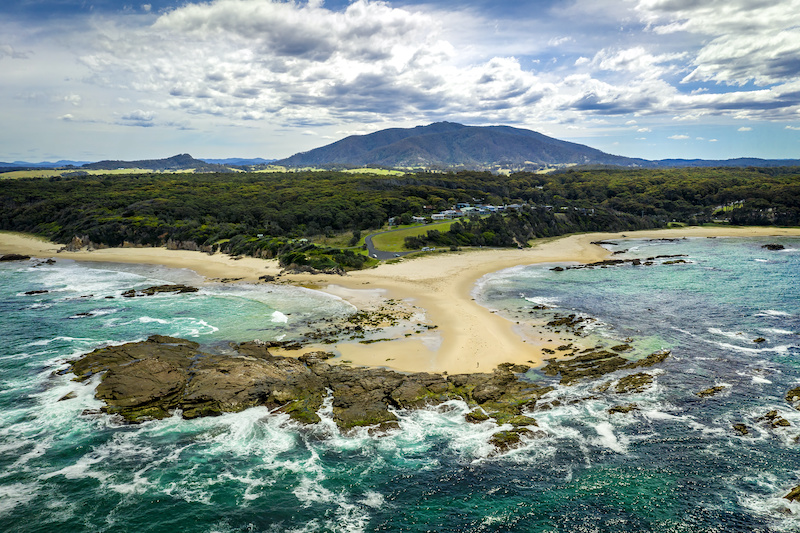 This special spot within the Gulaga National Park is of great spiritual significance to local Yuin people. The mountain is a spiritual mother; the place where all things begin. It's also a place to attain knowledge and find healing. It's also just a truly beautiful place to visit! The national park contains walkways that show off the stunning views of the coastal lakes. There is a shop, picnic area and you can also participate in the Gulaga Creation Experience to learn more about the Dreaming creation stories.
A little heads-up: As of March 2022, the Mount Dromedary fire trail is closed due to flooding. Make sure you check Gulaga National Park's local alerts before you head off.
6. Three hours from Melbourne, VIC: Gariwerd/Grampians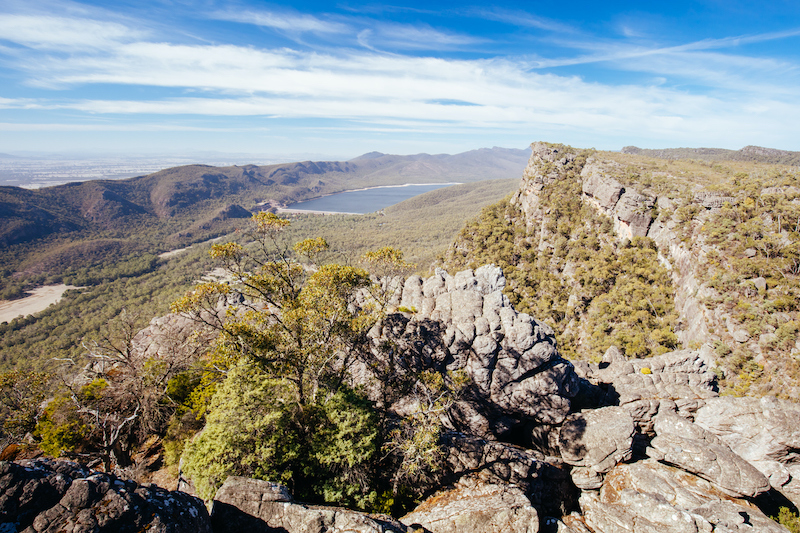 In true Victorian fashion, the area surrounding the five sandstone ridges of Gariwerd (the Grampians) is chock full of things to do – especially if you're into wineries, fancy restaurants and luxe hotels (there's also a super great zoo, waterfalls and a heap of walking trails 🤗)
Gariwerd is located on the land of the Djab Wurrung and Jardwadjali people, who have a history stretching back over 20,000 years. It boasts the densest concentration of rock art paintings in Victoria, which are spread across approximate 60 sites, five of which are open to the public 🎉 You can visit the Manja and Billimina shelters in the Western Grampians, the Ngamadjidj and Gulgurn Manja shelters in the north and Bunjil's shelter near Stawell. The cultural centre of Brambuk is another great place to explore even more displays of art and artefacts that beautifully demonstrate the deep spiritual significance of the Grampians.
7. Two hours and 20 minutes from Perth, WA: Nambung National Park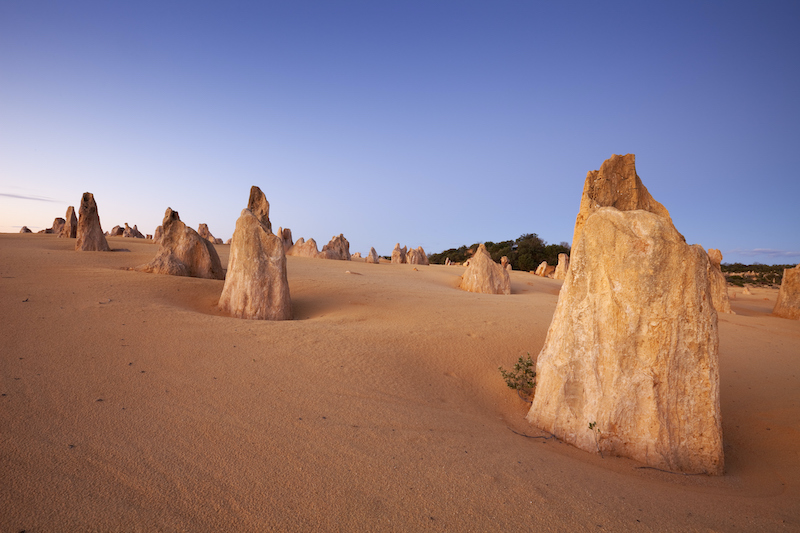 You'll only be a two-hour drive north of Perth but you'll feel a world away when you're standing in the moonscape surroundings of Nambung National Park, also known as the Pinnacles. These otherworldly limestone structures date back over 25,000 years. The name 'Nambung' comes from the local Nyoongar language and means 'crooked' – but it refers to the river that weaves through the region, not the pinnacles themselves.
After wandering through the thousands of mysterious formations, you'll want to stop into the nearby town of Cervantes – it's famous for its lobster! 😋
8. Three hours and 45 minutes from Adelaide, SA: Karta Pintingga/Kangaroo Island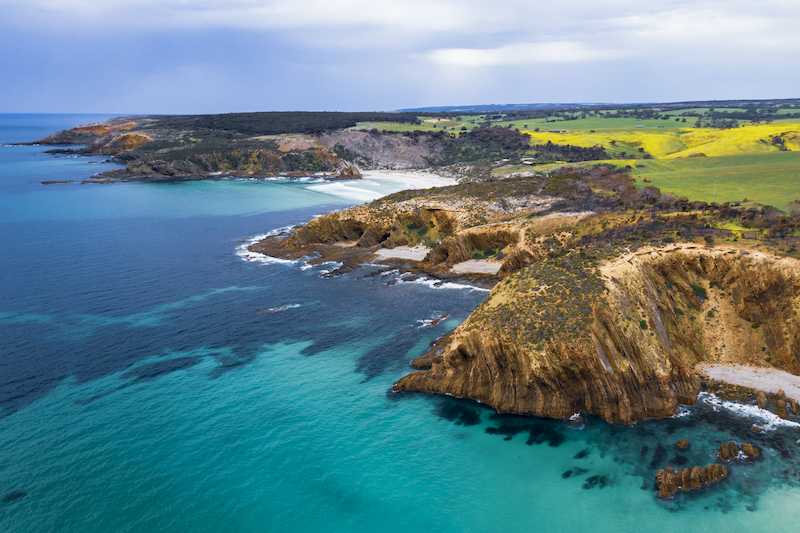 Karta Pintingga (otherwise known as Kangaroo Island) is a super interesting spot, beginning with its name – in the language of the Kaurna people, 'Karta Pintingga' means 'Island of the Dead'. Kangaroo Island was separated from continental Australia 10,000 years ago and a small group of Kartan people were stranded on the island. It is believed they occupied it for 10,000 years or more before disappearing from the archaeological record 2,000 years ago.
Karta Pintingga is a treat for wildlife fans – you'll find a beautiful place teeming with sea lions, koalas, diverse bird species and penguin colonies protected in nature reserves. There's also a wealth of peaceful walking trails, beautiful beaches, a choice of awesome places to stay and striking coastal rock formations.
Heads up! Due to COVID-19, government restrictions are in constant review and travel guidelines may change. We strongly recommend that all travellers seek further information about destinations and attractions before scheduling trips or making bookings, take extra care and follow all rules.