Top Turtle Island holiday packages
2.0-star property
Likuri Island Resort Fiji
4.2/5
Very Good! (98 reviews)
4 Aug. - 11 Aug.
7 night stay
Adelaide (ADL) to Nadi (NAN)
Fiji Airways • Return • Coach
Price was AU$1,138, price is now AU$909 per person
I loved the location, the people who work at this Island are gems 💎 the front beach rooms were beautiful! Watch out for falling coconuts 🌴
Reviewed on 19 Jun. 2022
3.0-star property
Hexagon International Hotel
4 Aug. - 11 Aug.
7 night stay
Adelaide (ADL) to Nadi (NAN)
Fiji Airways • Return • Coach
Price was AU$1,021, price is now AU$825 per person
The hotel needs the bathrooms updating, they are tired looking. Our room was spacious and overlooked the pool, air con worked fine but tv didnt (although we were not staying to watch tv). Staff were very friendly, shops and restaurants/bars nearby. We did find it a bit odd when we had to sign for towels.....not trusting of guests maybe. Locals dont give it a good rating but we found it comfortable for our week
Reviewed on 26 Jun. 2019
3.0-star property
Tanoa Skylodge Hotel
4 Aug. - 11 Aug.
7 night stay
Adelaide (ADL) to Nadi (NAN)
Fiji Airways • Return • Coach
Price was AU$975, price is now AU$790 per person
Perfect for stay either side of an island transfer. Good facilities and price. Air con and comfy beds :)
Reviewed on 27 Apr. 2022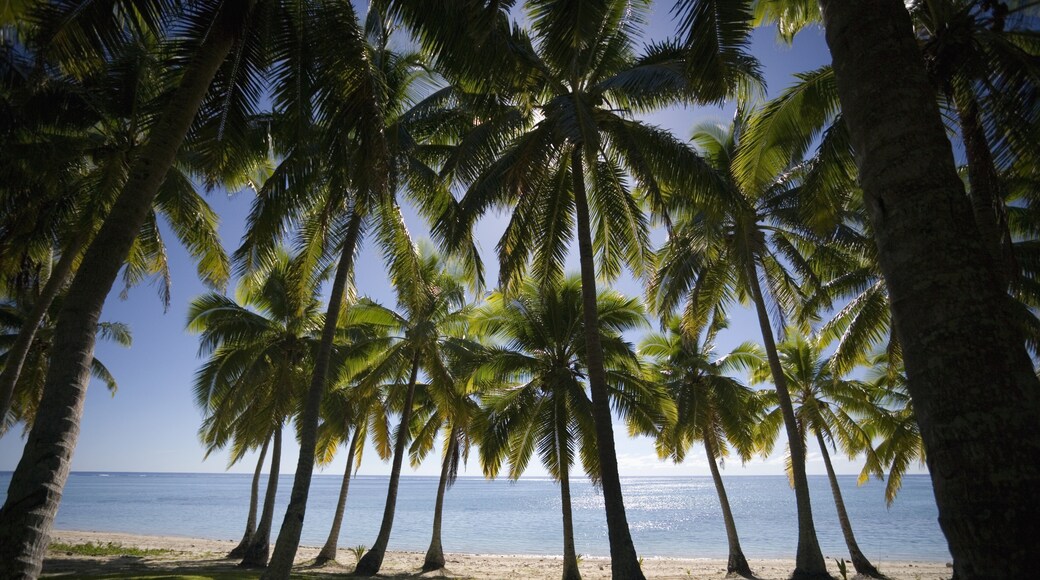 Book your Turtle Island holiday
Turtle Island Holiday Packages
What would you do if you owned an island? Would you turn it into a paradise for tropical holidays? Well, that's exactly what happened with Turtle Island. This gorgeous little isle is part of an archipelago in Fiji. Secluded and quiet, it's the perfect place to take that special someone. Or pretend you're Tom Hanks in Castaway. Whatever blows your hair back.
There's only one resort on the island, offering just over a dozen bungalows. It's pure, unadulterated tropical paradise, plus just enough development to cater to your every whim. You could literally go your entire trip without seeing a single other person…or you can do just the opposite, and have a staff of luxury experts massaging, manicuring, feeding and entertaining you. Take your entourage with you while lounging on private beaches, hiking through the jungle and catching both sunrises and sunsets on either side of the island. Or leave them back in the lobby. Your wish is their command.
Ready for life on a deserted island? Then pack your sunnies and Wilson—your trusty volleyball—and grab one of our Turtle Island holiday packages!
Stuff to Do
You could probably spend your whole trip just trekking through the pristine jungle playing Treasure Island. Head off on your own or take a guided tour. Maybe X marks a spot on the sand—a spot you'll never have to move from.
When it's time to move your adventures into the sea, grab a snorkel and check out the colourful fish and coral. Unless staying on top of the water is more your style, in which case kayaks and sailboats can help. Then there's stand-up paddleboarding and windsurfing. Holidays to Turtle Island can be as relaxing or action-packed as you want.
Grub to Nosh
Personalised activities and non-stop pampering are great, but where's the grub? We hear you. Luckily, there are tons of coconut trees around. Just pick 'em, pop 'em open and drink. BYO straw.
Okay, just kidding. The resort has first-class cuisine, prepared mostly with local ingredients, organically grown or caught right on the island. Imports include Australian beef and wines from around the world, perfectly paired with the food. Are our Turtle Island packages making you drool yet?
For the freshest meal, spend the day catching all the yellowfin you can shake a pole at and have it prepared artfully by professional chefs. Then—here's the best part—surprise your special someone with a sunset cruise and the meal you caught (with your own two hands, Castaway-style?) and your favourite vintage. You'll totally blow Wilson's mind.
Where to Visit
When the tide is down, you can skip right over to Nanuya Lailai Island by crossing the tiny strait between the two. Lounge on Blue Lagoon Beach or grab a cuppa and some cake at Lo's Tea House. If you get lonely on secluded Turtle Island holidays, take a quick boat ride to Matacawalevu Village on Matacawa Levu Island. And of course, there's the big Fijian island, Viti Levu. Visit the capital city of Suva, or Koroyanitu National Heritage Park. Travel like you mean it, and book one of our Fiji holiday packages too.
Can't wait to visit a private bit of paradise? We don't blame you. Wotif's Turtle Island packages deals can save you big bucks, so 24/7 pampering doesn't cost you an arm and a leg. Because dreams do come true for savvy travellers!
Top Turtle Island hotels
Don't see what you're looking for?
See all available properties in Turtle Island
View all properties
Lowest nightly price found within the past 24 hours based on a 1 night stay for 2 adults. Prices and availability subject to change. Additional terms may apply.