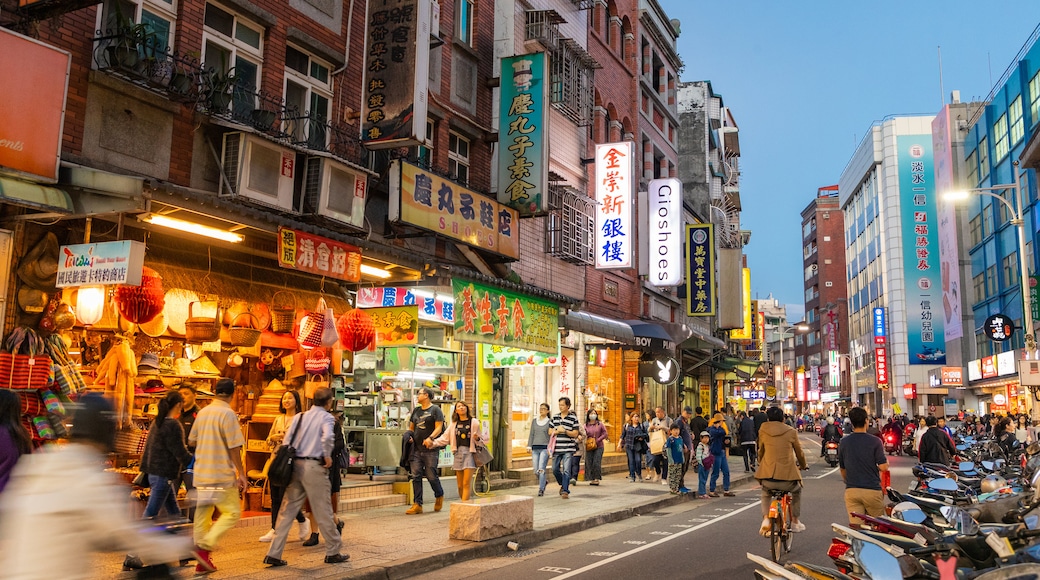 Book your Taipei holiday
Taipei Holiday Packages
Lying just off the coast of China is an island state where you can try something called pig's blood cake. A place where silk shirts are all the rage. It's also the location of your future holiday jaunt. Why? Because the cherry blossom season is awesome, the food is unreal and the capital city of Taipei is as exciting as any other place on earth. When you're ready to get up and go, Wotif has you covered—we provide the best offers on Taiwan holiday packages, so book one now and we'll see you there tomorrow.
Street Food is the Only Food
If you want to get a wake-up call from the concierge of one of our Taipei hotels, you can. Or you can just leave your window open and wake up to the unbelievable scents of Taipei's famous street food wafting through your room. Seriously, the food scene here is out of this world. Here's a short list of dishes we think you'd be nuts to not try, especially if you've booked car hire in Taipei—a vehicle makes it easier for you to search for your favourite meal:
Oyster Omelette – This dish is easily one of the most popular delicacies among the night markets. The fluffy egg omelette is mixed with potato starch and stuffed with small oysters. And just when you thought it couldn't get any better, the entire plate is covered with a savoury, gravy-like brown sauce.
Gua Bao Pork Buns – The name of this delicious little snack literally translates to "cut bread". It's fitting, considering this is a dish that consists of a slice or two of pork belly and condiments all slammed in between two pieces of flat steamed bread. These tasty devils are affectionately known as "Taiwanese hamburgers". There's nothing better than eating one or two of these after a long night of cocktails.
Beef Noodle Soup – How popular is this dish in the region of Taiwan? Well, for starters, beef noodle soup has its own festival dedicated to it. It's a stew consisting of beef broth, Chinese noodles, and vegetables. You can get this from almost any night market in the area for a couple of bucks, or you can go to the Niu Ba Ba restaurant and order the most expensive bowl of beef noodle soup in the world.
Check This Out and That Out
Now that you've filled up on pork buns and oyster-stuffed omelettes, you'll have enough energy to check out all the cool things this island has to offer. Need some advice on what to do? Check out these below:
National Palace Museum – Need to kill some time in the afternoon before raging all night? Head over to the Palace Museum where over 700,000 pieces of ancient Chinese artifacts cover 10,000 years of history. Two of the most well-known objects on display are the Meat-Shaped Stone and the Jadeite Cabbage.
Kenting National Park – Take a break from the hustle and bustle of the capital city and enjoy some R&R in Kenting National Park. Sprawl out on the white sand beaches, explore the Elunabi Lighthouse and learn about creatures of the deep at the National Museum of Marine Biology and Aquarium.
Remember when you used to spend your spare time daydreaming about taking an extended trip to that giant island off China? Every time you sat through a way-too-long meeting, all you could think about was slurping down a big bowel of beef noodle soup. Now you can turn that dream into a reality by booking one of Wotif's fantastic Taiwan holiday deals and leaving your dull office behind.
And since China is so close—as in, just an hour and a half by plane!—you should take advantage of one of our Hong Kong packages and check out all the sights and sounds on that crazy island.
Top Taipei hotels
Lowest nightly price found within the past 24 hours based on a 1 night stay for 2 adults. Prices and availability subject to change. Additional terms may apply.
Recommended cities for you