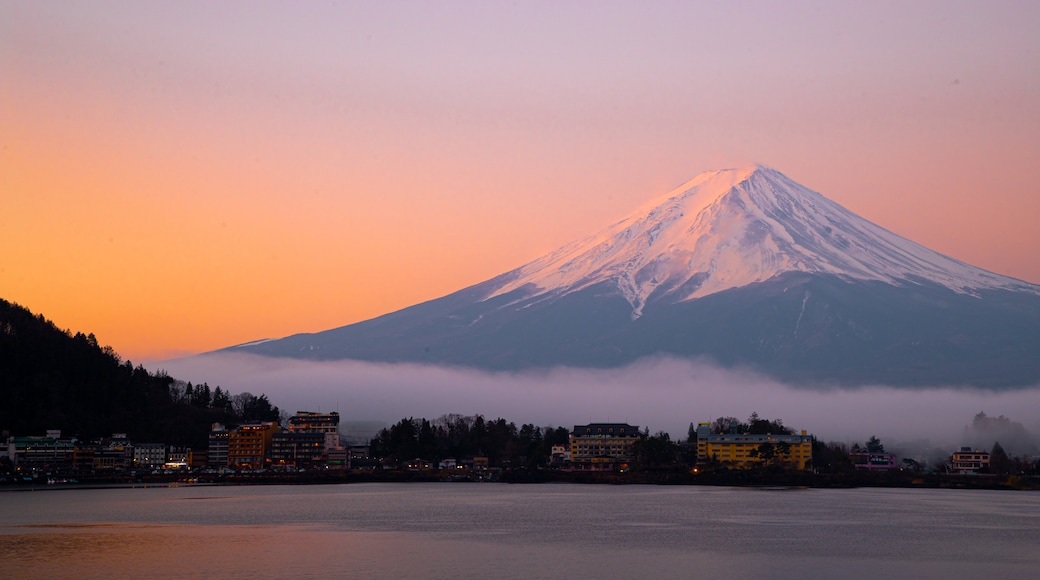 Mount Fuji
Inspiring artists, writers and visitors, just as it has for centuries, this iconic holy mountain is one of the most enduring symbols of Japan.
Few other Japanese sites are as iconic as Mount Fuji, Japan's highest peak and one of the country's "Three Holy Mountains." This 12,389-foot (3,776-metre) active volcano is known for its near-perfect conical shape and regarded as a semi-deity in Japanese Shinto religion. Some believe it possesses its own soul.
Mount Fuji is visible for hundreds of miles in every direction so there are plenty of great vantage points from which to admire it. In Tokyo, make your way to the top of the Bunkyo Civic Centre or the Tokyo Skytree, both offering stunning views of the mountain towering beyond Tokyo's skyscrapers. Visibility is best during early morning and late evening, particularly during the colder seasons. Fuji's classic snowcapped peak is typically clearest from November to May. 
Sit on the right side of the train during a journey from Tokyo to Osaka for another prime opportunity to see this famous peak. Take a daytrip from Tokyo to the Fuji Five Lakes region on Mount Fuji's northern slopes for views of the mountain in a picturesque natural setting. 
For an even closer look, journey to the Fuji Subaru Line 5th Station, the most popular of the four 5th stations located on the mountain's slopes. Aside from occasional snow closures, this spot can be reached year-round via public transportation directly from Tokyo. From the 5th station, you will see the mountain's peak as well as views over the Fuji Five Lakes area below. 
It is believed that Mt. Fuji was first climbed in the 8th century. Hike to the summit today in 5 to 7 hours with a 3- to 4-hour return. The mountain is officially open July through mid September, with several different routes available to the top. Although physically challenging, the climb is within the capabilities of even inexperienced hikers and climbers. More than 300,000 locals and tourists make this memorable trek each year, many planning to reach the peak for a splendid sunrise. 
Find Mount Fuji on the border between Shizuoka and Yamanashi Prefectures. Reach its 5th stations by bus from Tokyo.
Things to do in Mount Fuji
Travellers listen up! There's more to a holiday than just kicking back and taking it easy. There are so many new things to explore!
We've collated a list of epic Mount Fuji activities for you to browse:
Top Mount Fuji hotels
Don't see what you're looking for?
See all available properties in Mount Fuji
View all properties
Lowest nightly price found within the past 24 hours based on a 1 night stay for 2 adults. Prices and availability subject to change. Additional terms may apply.
Book your Mount Fuji holiday