Top Koh Samui holiday packages
4.0-star property
Outrigger Koh Samui Beach Resort
4.2/5
Very Good! (600 reviews)
16 Aug. - 23 Aug.
7 night stay
Sydney (SYD) to Ko Samui (USM)
Singapore Airlines • Coach
Ko Samui (USM) to Sydney (SYD)
Bangkok Airways • Coach
Price was AU$2,106, price is now AU$1,949 per person
Restaurant staff good, reception staff terrible. For what we paid for this hotel, it was very unprofessional. Waited one hour for luggage, phoned twice had to go to reception and take to room myself. Three days no wifi in room finally reception moved us to a room we could get wifi after many complaints. Swimming pool was across a very busy road. Beach was always dirty. Would never stay here again.
Reviewed on 23 Nov. 2018
4.0-star property
Tango Luxe Beach Villa Samui
4.6/5
Wonderful! (147 reviews)
18 Aug. - 22 Aug.
4 night stay
Sydney (SYD) to Ko Samui (USM)
Singapore Airlines • Coach
Ko Samui (USM) to Sydney (SYD)
Bangkok Airways • Coach
Price was AU$2,049, price is now AU$1,821 per person
Excellent friendly staff, spacious villa with excellent privacy the food and drinks were amazing!
Reviewed on 2 Oct. 2018
4.0-star property
Samui Resotel Beach Resort
4.1/5
Very Good! (267 reviews)
18 Aug. - 23 Aug.
5 night stay
Sydney (SYD) to Ko Samui (USM)
Singapore Airlines • Coach
Ko Samui (USM) to Sydney (SYD)
Bangkok Airways • Coach
Price was AU$2,128, price is now AU$1,894 per person
Nice property. Friendly staff who will help as required however English is not the best. Overall was good value place to stay without any hidden surprises.
Reviewed on 17 Mar. 2020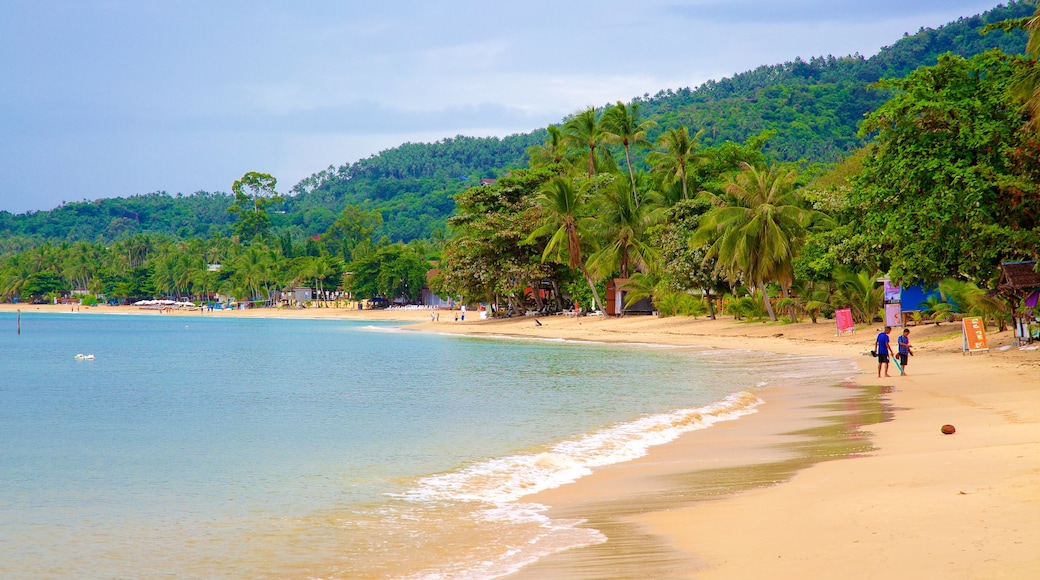 Book your Koh Samui holiday
Koh Samui Holiday Packages
With miles of palm-fringed beaches, towering jungle-covered mountains, luxurious spas and nature retreats, Koh Samui has rapidly transformed from a sleepy backpacker hideaway to the grand old dame of Thai beach destinations. Book one of Wotif's Koh Samui holiday deals to get away from it all on this lovely island in the gulf.
Things to Do in Koh Samui
Koh Samui holidays have something for everyone. For starters, hit the coast at beautiful Chaweng it's the island's longest and most popular stretch of beach. Discover soft sands lapped by clear turquoise waters. Lounge under an umbrella, take a refreshing swim or indulge in just about any watersport that strikes your fancy, whether it's jet-skiing, paragliding, kayaking or snorkelling…it's all here.
The rest of the island's sights are easy to explore by booking one of Wotif's car hire options in Koh Samui. Drive over to the yoga retreats and health spas that dot the coast. In the lush green interior, there are first-class restaurants high in the hinterland with far-reaching views over the island and surrounding sea. Or, for a cultural exchange, cruise the traditional villages and towns along the south coast, where the gentle pace of life goes on unchanged.
Shopping, Dining &amp Nightlife
Koh Samui packages don't include souvenirs, so it only makes sense that you set aside some time on your itinerary for shopping. There are outdoor markets bursting with beachwear, music and DVDs, art galleries with affordable Thai and Western contemporary pieces, fashionable clothing boutiques and air-conditioned shopping centres. It's hard to imagine sipping on a cocktail while taking in a little shopping, but this is a part of daily life along Chaweng Walking Street. In fact, most of the island's shopping is concentrated around Chaweng and Lamai. However, Nathon, on the other side of the island, has a night market perfect for watching the sunset.
Few places in the world have more delicious eateries to suit all tastes and budgets. The sheer number of diverse restaurants, cafes and beach vendors will keep everyone happily fed and sated. Explore the eateries around Lamai for affordable mouth-watering Thai cuisine. Chaweng has the best selection of restaurants plating up your Western favourites, plus dishes piled high with succulent fresh seafood harvested from the island's waters. The island's vibrant nightlife is among the best in Asia. Stylish and laid-back cocktail bars dot the beach along Chaweng and many restaurants host traditional Thai dancing. If you're in the mood for more serious fun, state-of-the-art clubs in Chaweng regularly fly in top international DJs, and full-moon parties draw crowds of happy partiers for good times that last into the next day.
What's Next?
You can rely on Wotif to get the best Koh Samui deals. Whether you're looking for the perfect family holiday, a romantic getaway or a solo adventure, we can save you money on your trip. Book your flight and hotel in one go with a Koh Samui holiday package and we'll pass the savings on to you. Check out more of our cheap Thailand holidays, too. You'll soon be relaxing in a hammock in the Gulf of Thailand.
Top Koh Samui hotels
Lowest nightly price found within the past 24 hours based on a 1 night stay for 2 adults. Prices and availability subject to change. Additional terms may apply.