Top Aitutaki holiday packages
4.5-star property
Aitutaki Lagoon Private Island Resort - Adults Only
4.3/5
Excellent! (248 reviews)
6 Mar - 11 Mar
5 night stay
Melbourne (MEL) to Aitutaki (AIT)
Air New Zealand • Direct return • Coach
Price was AU$2,938, price is now AU$2,730 per person
Couldn't fault it. Liked the nice new bikes. Food in the restaurant each night was good and staff very friendly.
Reviewed on 6 Jun. 2019
5.0-star property
Aitutaki Escape
4.8/5
Exceptional! (8 reviews)
24 Mar - 31 Mar
7 night stay
Perth (PER) to Aitutaki (AIT)
Scoot • Direct return • Coach
Price was AU$4,663, price is now AU$4,315 per person
The Aitutaki Escape villas are found in a stunningly beautiful South Pacific island location set among the palms on the edge of the lagoon. It is a couples only luxury retreat. The villas each has its own private coral-walled pool on one side and the Aitutaki lagoon on the other. The wood frame and palm roofed villa has that rustic island charm everyone looks for and, whilst showing a little wear hear and there, is well-maintained and importantly is cleaned and tidied every day (except for Sundays). The villa is very roomy with all the mod-con appliances you will need in a serviced apartment. Thankfully, air-conditioning is available in the lounge and bedroom for those hot days or when you need to retreat from the mosquitoes. Breakfast is served in-room everyday (including Sundays) and is all you'd need to start your day. The Escape operates a small restaurant on-site around the reception but booking well in advance is a must as it can be closed if no bookings are made. The menu served is simply first class. The staff were always incredibly friendly and helpful on everything. On top of the great villa, the best things were the view, the pool, the location and ultimately the privacy - perfect for couples.
Reviewed on 22 May 2018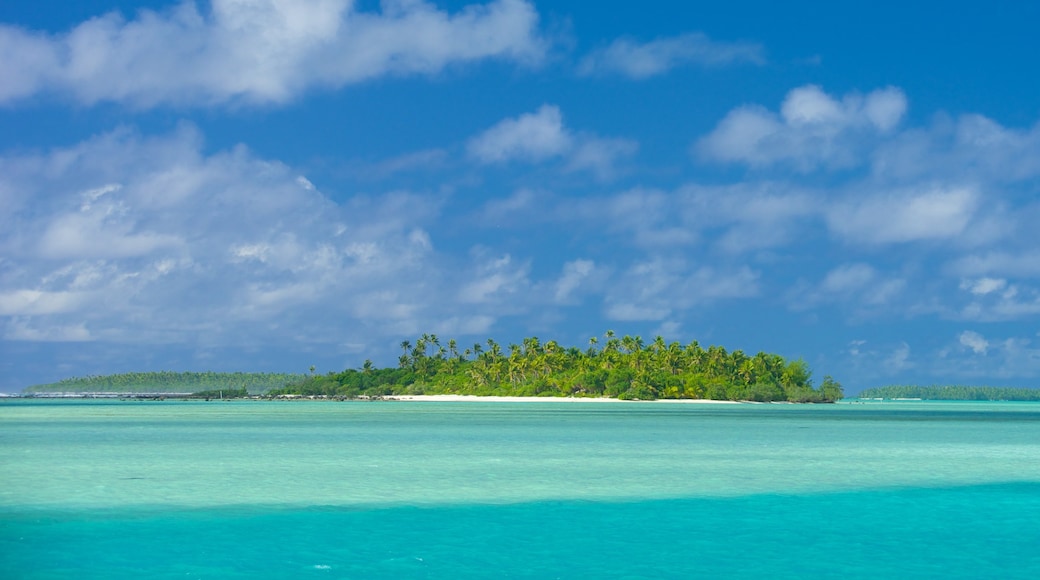 Book your Aitutaki holiday
Aitutaki Holiday Packages
Kia orana! Aitutaki welcomes you to the Cook Islands, one of the most beautiful places on earth, where the people are descendants of warriors and noble maidens.
If this sounds like an exaggeration, you've obviously never been here! Discover the allure of the South Pacific with our Aitutaki holiday packages.
Things to Do on Aitutaki
You're sure to moon over the views on "Honeymoon Island" no matter where you end up, but your holiday in Aitutaki will really reach its "peak" with a hike up Maunga Pu. It's an easy walk 124 m above sea level, and you'll be rewarded with beautiful, secluded views of the entire island and the lagoon. If your dream escape involves absolutely no physical activity, that's OK too. Just get yourself onto a boat and set sail for One Foot Island in the southeast part of the lagoon. This top spot for weddings and tropical getaways is the definition of the postcard-perfect South Pacific locale. We just hope you brought your sunnies—the bright turquoise waters have been known to cause severe squinting episodes.
If you need more excitement than sitting on the beach, plenty of active adventures await. Make no "bones" about it—reeling in the difficult-to-catch bonefish is a popular (and time-consuming) endeavour on Cook Islands holidays. Those angling for a chance to land one of these gilled ectotherms can find some of the best guides on Aitutaki.
Shopping, Dining &amp Nightlife
You won't find any giant shopping malls on Aitutaki holidays, and that's precisely the point. You certainly don't need them here, anyway. All you need is Market Day—that's Saturday. Head to the northwest side of the island near Tamanu Beach and follow the main road south in one of Wotif's Aitutaki car hire options. You'll find storefronts and pop-up cabanas brimming with traditional crafts, colourful pareu fabric and artisan breads perfect for snacking on the beach.
Some of the most delectable island dining and exciting entertainment on the island is available through the hotels and resorts you can book with Aitutaki package deals. While the food and drinks may not be included in the room rate, the fun definitely will be. Dig into a feast of fish, meat and veggies straight off the barbie as you watch the sun set, then top it off with the island's famous banana poke: a combination of banana, sugar and coconut milk that will have you asking for seconds.
Looking to get off the resort? Hop back on the main road that circles the island, and you'll have options galore for island ambiance and fresh flavours. You can find everything from fish and chips take-away to sports bars (however, Cook Islands roots for the All Blacks). You can even dine on the beach—in Aitutaki, your toes hardly ever have to leave the sand.
What's Next?
If you listen closely, you can definitely hear Wotif's Aitutaki packages calling your name…or maybe that's just your holiday self calling. Bundle your flight and accommodation to get the best deal around, then open the nearest window and imagine the sea breeze in your hair.
Top Aitutaki hotels
Lowest nightly price found within the past 24 hours based on a 1 night stay for 2 adults. Prices and availability subject to change. Additional terms may apply.
Recommended cities for you