With more than 10,000 beaches around Australia, we're pretty spoilt for choice when it comes to stunning sandy escapes.But there's one beachy destination that stands out from the crowd and that is Esperance, WA. Here are seven of its most incredible beaches, each one almost guaranteed to make you say, "I need to go to Esperance, ASAP!" Let's count them down, starting with…
7. West Beach
As a beach lover, you know you're in for a treat when you come across a self-drive tour called the Great Ocean Drive. One of the first stops you'll make on the 40km trip is West Beach. With two large reefs and the iconic boulders of Dempster Head as its backdrop, West Beach sets the tone perfectly for the gorgeous views you can expect on the rest of your journey through beach bliss.
6. Fitzgerald River National Park – West Beach
As if one amazing West Beach isn't enough, the Esperance region is home to two of them!
A two-hour drive west of Esperance takes you to the Fitzgerald River National Park. It's a wilderness wonderland, home to around 20% of Western Australia's flora species and numerous beautiful beaches, including its very own West Beach. The Cave Point lookout is an absolute must-stop spot, with sensational views all the way down to East Mount Barren.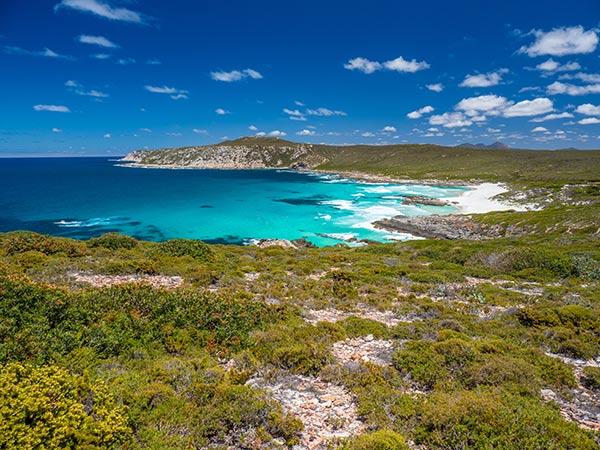 5. Hellfire Bay
Next door to Esperance's most famous beach, Lucky Bay (more on it later), is the mesmerising Hellfire Bay. It's a striking spot that's sometimes overlooked by tourists visiting the Cape Le Grand National Park and in a hurry to get to Lucky Bay. Don't make the same mistake – make sure you stop for a swim in the electric-blue waters. Bring your lunch and make the most of the fantastic sheltered picnic area too.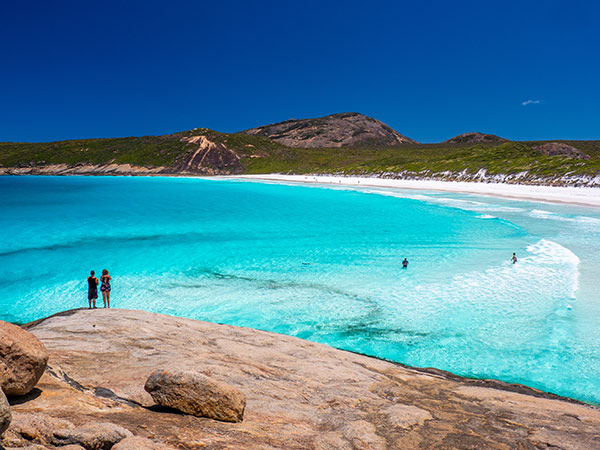 4. Blue Haven
Back on the Great Ocean Drive and just 10 minutes from Esperance is Blue Haven and one of the most stunning stairways you'll ever see. During the summer holidays and on weekends it's a very popular spot, so make sure you get in early to grab a carpark. If you've brought your furry four-legged friend along for the roadtrip, then you're in luck, because Blue Haven is dog-friendly.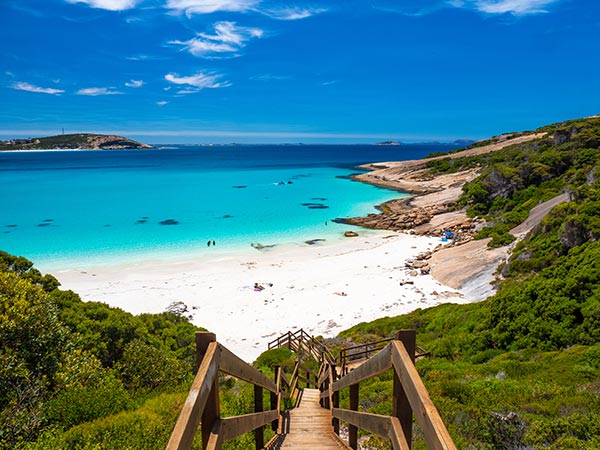 3. Wharton Beach
A real hidden gem and a favourite with locals, Wharton Beach is just over an hour east of Esperance. Surfers and paddle boarders will be in heaven – Wharton is home to some of the clearest waves in the world and it's easy to find yourself sitting for hours, mesmerised by the crystal-like water.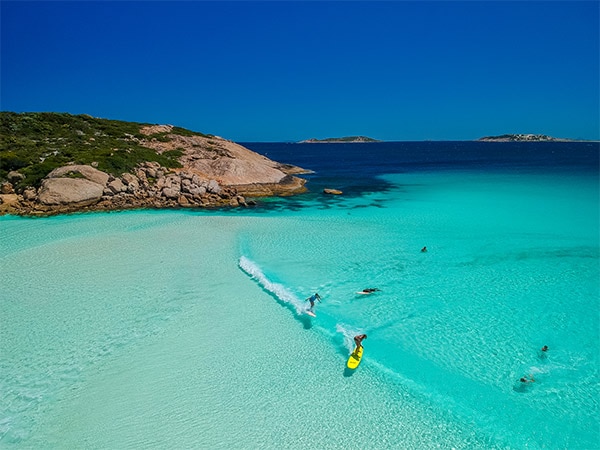 2. Twilight Beach
Voted the most popular beach in Western Australia, Twilight Beach is another of the Great Ocean Drive's breathtaking beauties. On summer weekends, it's patrolled by surf lifesavers, making it perfect for a day at the beach with the family. The "rock with the hole in it" that lies just offshore makes a stunning backdrop for photos and you'll most likely spot a few locals and tourists swimming out to it on calm days.
1. Lucky Bay
Kangaroos hopping down the beach, crystal-clear waters that are perfect for swimming, and a sensational campground where you can roll out your swag and walk along the whitest sand in Australia, Lucky Bay certainly has it all!
Many places are hyped up as must-sees, but Lucky Bay really does deserve its title. It also has a few surprises up its sleeve – for example, did you know you can surf here?And it's even serviced by a mobile café, so you can grab a coffee or an ice-cream then kick back on one of their comfy chairs and watch the kangaroos hop on by.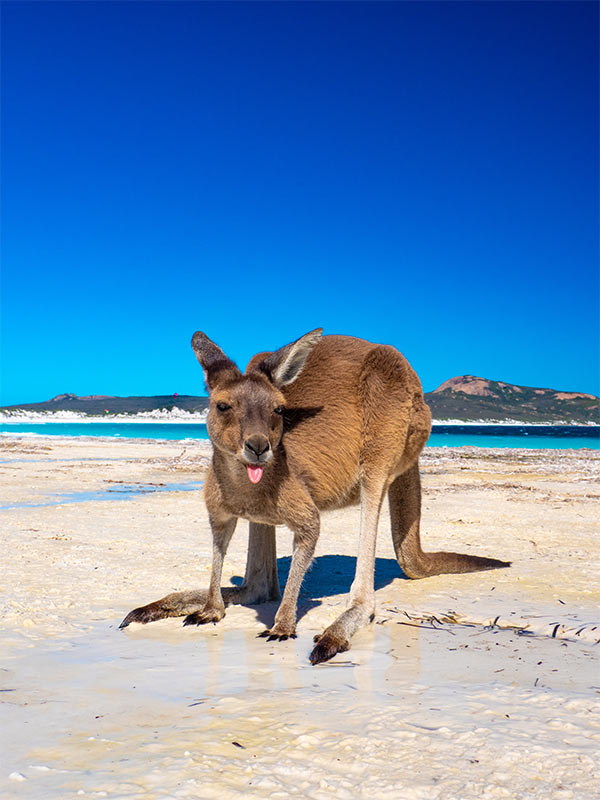 Lucky Bay's biggest drawcard is definitely its friendly kangaroos and if you're looking for that picture-perfect Instagram post, the best times of day to see them on the beach are early in the morning or later in the afternoon. In the middle of the day, they're generally lazing around in the surrounding bushes and staying out of the sun. One of their favourite spots is down at the far western end of the beach, where there's usually a bit of seaweed for them to much on and sometimes even use as a comfy bed! So if you're having trouble spotting them, that's a great place to look.
PLAN YOUR ESPERANCE GETAWAY