Search results
City Private Helicopter Tour
by Heliservices (HK) Limited
Duration 18m+ Free cancellation available
Take to the air for a private helicopter tour through the skies above Hong Kong. Marvel at spectacular views of city landmarks, islands, bays, beaches and gr...
City Private Helicopter Tour
Duration 18m+ Free cancellation available
per traveller * AU$409 AU$409
Price is AU$409
per traveller*
Free cancellation available
* Pricing based on group of 6 travellers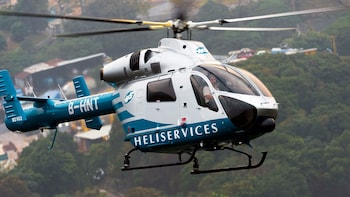 Private Helicopter Tour of Hong Kong Global Geopark
by Heliservices (HK) Limited
Duration 30m Free cancellation available
Experience the contrast between the vibrancy of Hong Kong Island and the calm of Sai Kung on this private helicopter tour. Take in scenes of the city's skyli...
Private Helicopter Tour of Hong Kong Global Geopark
Duration 30m Free cancellation available
per traveller * AU$630 AU$630
Price is AU$630
per traveller*
Free cancellation available
* Pricing based on group of 6 travellers